Bulldog SC820 Well Service Catwalk
Double Axle Hydraulic Catwalk for Workover Service Rigs globally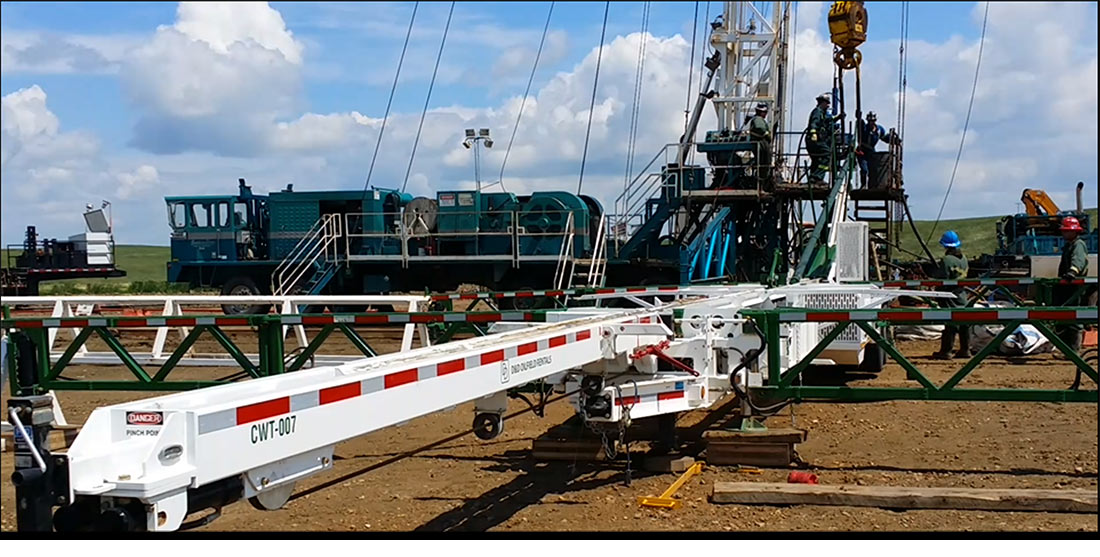 Drillform's 820 Workover Rig Catwalk offers fast cycle time and a high lift capacity. The unit has a simple set up, and features hydraulic kickers, indexers, and skate. The "no deck" design reduces overall weight and increases personnel safety by reducing fall risk. For ease of transport, there is a simple transition into transport mode with a pintle hitch. A telescoping ramp extends from 8' to 20' (optionally higher) floor heights, while an extended pipe channel accommodates Range II and Range III tubulars with up to 2,200 lb. lifting capacity, handling 2 ⅜" to 6" OD. The catwalk includes a pintle hitch for easy towing and is available in skid and towable versions. Now available in both skid and towable versions from World Petroleum Supply, Inc. located near Houston, TX.
The team at Drillform have been leading industry efforts to automate pipe handling since the late 1990s with their introduction of the TM series of Iron Roughnecks and PC series of catwalks, sold to Canrig/Nabors Industries in 2006. Drillform's modern iron roughnecks are geared to address the challenges¬¬ facing drilling contractors associated with more powerful rigs, and the drilling of deeper and more horizontal wells.
To accommodate an industry trending towards longer and deeper well profiles, Drillform has introduced a family of hydraulic and pneumatic workover rig catwalks designed to increase the speed and efficiency of tubular handling.
KEY ADVANTAGES • SC820
Hydraulic kickers, indexers & skate increases the safety of pipe handling
The telescopic ramp extends from 8' to 20' high.
Adjustable pipe racks and extended pipe channel for R II and R III tubulars.
Pintle hitch for easy towing and faster moves.
DOWNLOADS
Contact WPSI Global Sales